Meeting Room Use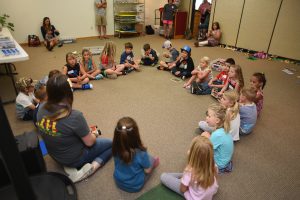 The Buena Vista Public Library (BVPL) welcomes the use of its meeting room for meetings, lectures and other gatherings. The goal of this policy is to provide wide access to our meeting room on a first-come, first-served basis to as many citizens as possible. The room is available on a reserved-only basis by government agencies, non-profit organizations, and groups engaged in educational, civic, cultural, intellectual, and charitable activities.
The meeting room is available to all citizens of Chaffee County on equal terms regardless of opinion or affiliation. Permission granted to meet in a library meeting room in no way constitutes endorsement by the BVPL of the policies or beliefs of any group or organization. Neither claim to that effect nor claim to Library sponsorship may be used, explicitly or implicitly, in advertising. Neither the name or address of the Library may be used as the official address or headquarters of an organization or group using the Library's meeting room.
The meeting room is available for commercial purposes, but a fee will be charged. Such commercial use includes but is not limited to bazaars, special benefit sales, and programs designed to promote the purchase of products or services.
The Library's Director or other designee will review all requests for the meeting room's use and determine eligibility prior to granting approval. In the event that a question may arise as to the eligibility of any organization, group, or individual requesting the use of the meeting room, the Library Director will be consulted, and if necessary, the Director will consult with the Library Board. Any appeal for exception to this policy must be made in writing to the Library Director.