Adult & Teen

Sincerely Yours, Letter Writing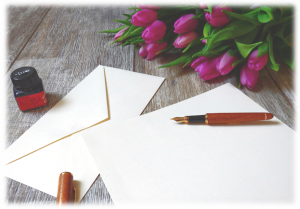 Revive the art of letter writing! Connect with someone you love by sending a note
they'll treasure. In this workshop, you will create a beautiful, thoughtful, and memorable piece of written art. Pick up a stationary starter kit at the Library.
Monday, April 19th
9:00—10:30am
Virtual , on Zoom
Meeting code:
884 6831 4427
Led by award-winning local
author Laurel McHargue-
Detailed flyer here.
Great Decisions

Great decisions is America's largest discussion program on world affairs.
Program begins virtually Jan. 28th running 8 sessions on 2nd and 4th Thursdays at 4:30 p.m. 
Topics and more information here.
Shake, Shimmy & Sweat

Movement and music to get your heart pumping, 5 classes a week. Kathy Keidel shares her feel good fitness dance class with the community. 
Join via Zoom.
Monday, Wednesday, Thursday

5:30 – 6:15 pm

Meeting ID: 828-2128-9466  Passcode:  107938

Tuesday, Thursday

9:00 – 9:45 am

Meeting ID: 865-8651-9576  Passcode:  107938
Adult /Teen Take & Make Kits

My Best Landscape Painting Ever
Live Online Painting Class with local artist Sabrina Carter.
Monday, March 8th 4:00- 5:30 pm.